LEAGUE at AT&T is proud to associate with the Human Rights Campaign and to share a recent update from their new President, Kelley Robinson:

This is my first weekly message as president of the Human Rights Campaign. I am so proud and grateful to be joining you all, especially at such an exciting and pivotal moment. We are here on the verge of historic progress — in the wake of the midterms and with the Respect for Marriage Act — and we have a powerful mandate for the critical work ahead.
First, I want to thank you for making HRC an electoral powerhouse, and second, I'm delighted to announce: We did it. In the 2022 midterms, we supported over 600 HRC-endorsed candidates up and down the ballot by raising money, knocking on doors, phone-banking, marching, rallying and voting. That infamous red wave? It was more of a red drip. We defeated anti-trans candidates in places like Michigan and Nevada, and we created our own "rainbow wave" to be reckoned with at the state and federal levels.
Transgender Awareness Week and Transgender Day of Remembrance. Despite our electoral progress, extremist forces — including political leaders in places like Texas and Florida — still wield power, influence and a determination to harm our communities. And our transgender and non-binary family continue to bear the brunt of their cruelty, making this year's Transgender Awareness Week an especially important one. HRC is proud to celebrate and uplift incredible advocates and leaders throughout the week.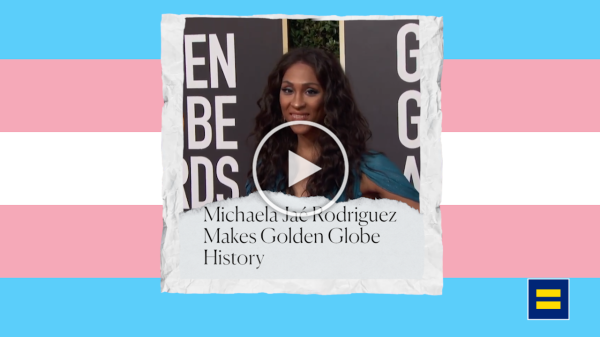 The week culminates in Transgender Day of Remembrance, held every year on November 20th when it began in honor of Rita Hester, a trans woman who was murdered in 1998.
Since the organization began tracking anti-trans violence 10 years ago, HRC has recorded at least 300 violent deaths of transgender and gender non-conforming people, including 32 in 2022 alone. This week, the HRC Foundation released "An Epidemic of Violence: Fatal Violence Against Transgender and Gender Non-Conforming People in the United States in 2022."
The folks taken from us are not statistics — they are beloved siblings, parents, partners and friends. This epidemic of violence, which primarily targets Black trans women, is fueled by transphobia, racism and misogyny. And we cannot ignore how this stigma is only heightened by the wave of discriminatory legislation aimed at transgender and non-binary people as well as their families, loved ones and even teachers and medical providers.
We will do everything in our power to defeat these legislative attacks and the extremist leaders behind them. And ultimately, we must dismantle this stigma and systemic barriers to advancement and bring this epidemic of violence to an end.
To my trans and non-binary siblings, please know, from the bottom of my heart: You are seen. You are known. And you are loved. And your safety and well-being are a top priority for me and for this organization.
The Midterm Elections. A little over a week out from the midterms, while some of our most dangerous opponents did find a path to victory, it is also clear that voters overwhelmingly rejected the transphobic playbook of our political opponents.
The midterms were a clear success for our pro-equality, pro-democracy, pro-choice movement. From holding onto our pro-equality majority in the Senate to making history with the most LGBTQ+ representation in Congress ever, from electing key allies in the states to electing trailblazers across the nation, we showed up and showed out.
It was a win — but it wasn't a fairy tale. We saw some heartbreaking losses, and some races have yet to be called. In a few states, like Texas and Florida, anti-equality candidates held on to their seats. However, the key takeaway is that our power as an LGBTQ+ movement is stronger than ever. HRC is only growing in its impact and its power. And LGBTQ+ people and our allies voted for pro-equality candidates in larger numbers than ever before.
New polling released by the HRC yesterday shows that across the nation, Equality Voters pushed back against extremism and voted to protect our democracy and our commonly held values. Equality Voters represented 39% of the 2022 electorate — a number that reflected the growing political strength of this voting bloc — and they tend to be younger and more racially diverse: in other words, the future.
They also sent a message that they want a pro-equality majority in the Senate that will respect and advance LGBTQ+ rights, voting rights, abortion rights and so many more freedoms that we count on. So now is the time to support Sen. Raphael Warnock in the Georgia run-off election on December 6th, so we can expand our pro-equality majority in the Senate.
The Respect for Marriage Act. With the community's hard work and the strong pro-equality vote in the midterms, we helped advance the Respect for Marriage Act in the U.S. Senate. On Wednesday, the Senate cleared a key procedural hurdle on the Respect for Marriage Act — we overcame a filibuster from our opponents with a strong bipartisan vote of 62 to 37, including all Senate Democrats and twelve Republicans. This victory now clears the way for passage in the Senate, after which the bill will return to the U.S. House for final passage — and then on to President Biden's desk for his signature. The Respect for Marriage Act will ensure that the federal government will continue to respect our marriages — no matter what actions a future extremist Supreme Court may take.
HRC has powered this fight. Our members and supporters wrote over 45,000 letters and made over 26,000 calls into Senate offices. And those numbers continue to grow. We should all be immensely proud of this moment, and we will continue the pressure as the Senate reconvenes at the end of the month for final votes on the bill.
Passage of the Respect for Marriage Act will demonstrate that the American people want a pro-equality future and marriage equality to be the law of the land. Now we must keep the pressure on to get this critical legislation across the finish line.
With these two victories — the midterms and the Respect for Marriage Act — the American people are sending a message loud and clear: we are done with the politics of extremism and division.
Our next chapter together. While marriage equality has been a historic, meaningful priority for HRC, it is only one of the many critical issues that face our community. We still need the Equality Act. We still need to fight back in state legislatures, especially against attacks on transgender youth. Our mandate is to create positive change and achieve full liberation for all LGBTQ+ people. And freedom means freedom for everyone — without exception: None of us are free until all of us are free.
And I'm speaking of the most marginalized among us whose freedom, too, is our birthright. As long as trans kids are prohibited from playing on sports teams with their friends, using gender-appropriate bathrooms and receiving age-appropriate gender-affirming healthcare… As long as the government decides what women, transgender men and many non-binary individuals may or may not do with their bodies and reproductive freedom… As long as elections are denied and voters are suppressed… As long trans and non-binary people have their lives cut short by hate… As long as three beautiful young Black men are shot dead on their college bus…. We are not yet free. And our work is not done.
I'm humbled to serve our movement as the president of HRC, especially at such a critical time, as we can see our challenges clearly — and our political and cultural power coalesce. I'm grateful to Joni Madison for leading the organization so ably and skillfully during this past year as interim president. And I'm eager to get to work with my new senior management team and the staff of the Human Rights Campaign and Human Rights Campaign Foundation, the boards of directors and governors, the steering committees and our grassroots army of volunteers across the country.
Our HRC family is a mighty force, and we are just getting started. We have power to win. We have safety, security and prosperity to win. We have healthcare and reproductive justice to win. We have gender and racial equity to win. We have family and camaraderie to win. We have joy to win. As we start this next chapter at HRC, let's win these things together. Let's win together.


With deepest gratitude,
 

  

 

Kelley Robinson

Incoming President

Human Rights Campaign

Pronouns: she/her/hers
Kelley Robinson is the president of the Human Rights Campaign and Human Rights Campaign Foundation. She is the first Black queer woman to lead the organization. Prior to joining HRC, Kelley led the charge for equal rights as the Executive Director of Planned Parenthood Action Fund and the Vice President of Advocacy and Organizing at Planned Parenthood Federation of America. With over 15 years of experience in campaign organizing, community organizing and coalition building, Kelley has a rich history of advocacy work and fighting injustice for society's most underserved populations. Kelley is also a proud wife and mother; she and her wife, Becky, call Washington, D.C., their home.