LEAGUE at AT&T CEO Stacey Chosed shares her thoughts as we embark on a new year and the challenges and goals ahead for LEAGUE and its members:
Members –
It is hard to believe that we are already well into the first month of January; I hope each of you are having a healthy and productive start to the New Year! 2021 proved to be another year of resilience for the LGBTQ+ community outside the walls of AT&T; mixed in was tremendous growth and engaging activities to facilitate continued education on advocacy, skills development, and celebrations. We celebrated an amazing PRIDE month and had the honor of hosting fireside chats with both Senator Chuck Schumer and Mayor Annise Parker -- all while facing the challenges of COVID.
COVID did not stop the work we do inside and outside of AT&T. Lawmakers were extremely active in 2021 and to date we have seen an increase in anti-LGBTQ+ legislation and proposed bills. In 2021, we saw over 100 anti-LGBTQ bills proposed across the United States and 19 passed as you can see below.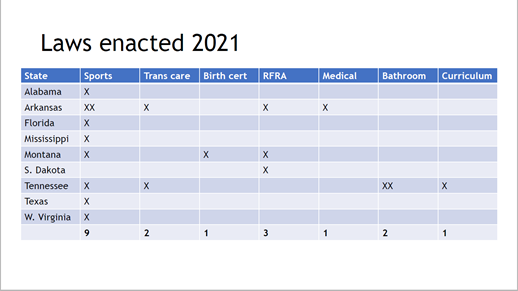 Our very own legislators haven't stopped. The current and growing list of bill counts being proposed in 2022 as of January 14th are as follows:
Bill Counts
• Anti-LGBTQ Bills: 103
• Anti-Trans Bills: 64
• Healthcare Bans: 19
• Sports Bans: 31
• Anti-LGBTQ School Policy Bills: 30
In 2021, we added Advocacy to our goals for LEGAUE. We took the time to educate everyone on important issue that affect the LGBTQ+ community. As we enter 2022, we will continue to include and expand upon Advocacy and dig deeper to find ways to support the community we represent and serve. This is a priority that I have set for our National Board in 2022.
As COVID remains, we will continue with virtual events and follow the guidelines AT&T has put in place. The national board and I promise to keep our members safety at the forefront of all planning sessions. LEAGUE will adapt as new protocols and processes are posted throughout the country.

We are hopeful that COVID restrictions will minimize over the next few months which will allow local chapter activity to resume to more in person events with the autonomy you have experienced in the past.
As for additional 2022 priorities, LEAGUE will be focusing on taking Pride in who we are and finding ways to enable everyone to be their authentic selves in and out of the workplace. We will also continue our professional development program which includes our powerful mentoring circles. We have an incredible Board who continues to amaze me in how everyone keeps pushing forward with new and exciting programs. I am excited to see the results of their programs in the coming months and look forward to another great year to serve as your CEO and wish each of you an amazing 2022. As always, I truly appreciate your partnership in this organization.
Regards,