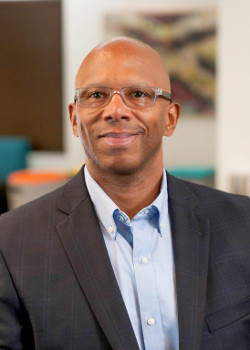 Mark A. Barfield is a marketing professional at AT&T where he has held positions in Sales, Operations and Marketing. Mark is currently a Lead Channel Marketing Manager on the AT&T Business Solutions Marketing team supporting the Corporate Solutions sales segment.  He is responsible for the DIRECTV portfolio, Analytics, and Campaign Management operationalizing integrated marketing campaigns designed to grow mobility, security, cloud, and transport revenue across medium to large businesses.
Mark is passionate about LEAGUE at AT&T, currently serving as Chief Executive Officer.  He previously served on the LEAGUE at AT&T National Board as Chief Operating Officer, Public Relations Officer and Communications Chair.  He continues to serve on the LEAGUE Foundation Board supporting higher education scholarships for graduating LGBTQ high school seniors.   
Mark has taken an active role as a member or chair of multiple committees and is always willing to support various national and local initiatives and has a passion for developing emerging leaders.   
Prior to relocating to Dallas in the spring of 2015, while serving on the national board, he also served as Vice-President for LEAGUE at AT&T Washington Chapter and is currently a member of the Dallas Fort-Worth Chapter.  Mark received his undergraduate degree in Political Science from the University of California Berkeley and his MBA from the University of Phoenix. Mark currently calls Dallas, TX home with his partner Bobby.
This industry in which we work, is a passion of mine, and in my 27 years with AT&T, I have witnessed an incredible amount of industry transformation in order to better serve our customers' needs and wants. It is great to work in an industry which is constantly evolving, and evolving exponentially!  Transformation is the key to our success as we approach the year 2020! 
During my 27 years with the company, I have held positions in the following organizations: consumer, small business, long distance, channel management, product management, and sales operations. I currently hold the title of Sr Quality/M&P/Process Manager with AT&T, in which I support sales operations of National Business, for a wide range of products and services. 
I received my Bachelor of Science in Business Administration (Marketing) from Auburn University. Atlanta, GA is my residence, and I am actually an Atlanta native. When I am not working, I enjoy playing piano, theater, traveling, and spending time with my friends. I am very involved in volunteer and community service and enjoy helping others. 
For 10+ years, I have been active in LEAGUE at AT&T. Over the past few years, I have held the following board positions with the Georgia chapter of LEAGUE at AT&T: Secretary, Vice-President, and President. I am excited to serve as Chief Operating Officer of LEAGUE at AT&T for 2017, and look forward to the many opportunities which we will face! By embracing diversity and inclusion, we are stronger and more competitive as individuals and as a company. By working together, we win together!
Frank has over 15 years of experience in the accounting industry.  His experience includes recording daily financial activity, preparing monthly and year-end financial statements, auditing of records, as well as completing and remitting informational tax returns for individuals and organizations.  
In addition to his volunteer work with LEAGUE at AT&T, Frank is a Lead Auditor with AT&T.  His responsibilities include planning and executing internal audits throughout the company.  
In addition to his work with LEAGUE at AT&T and AT&T, Corp., Frank also serves on the Board of Directors for Atlanta Pride, Inc., a nonprofit organization responsible for producing LGBT-focused events throughout the Atlanta area. 
Frank earned his B.A. in Accounting from St. Leo University, which is located outside Tampa, FL.  He continued his education and earned his Masters of Accountancy degree from Auburn University.  WAR EAGLE! 
Frank is a Certified Public Accountant (CPA) as well as a Certified Fraud Examiner (CFE).  By maintaining both professional licenses, he is able to provide an excellent level of accounting-related services to any individual or organization. 
When Frank is not working or volunteering, he loves spending time with his husband and cat.  His passions are traveling, cooking, musical theater, and all things Disney.
Sales Group. He's held several management roles since, that have spanned from Chief of Staff to Marketing roles that supported Segment Marketing initiatives from California to the West Region. Currently Emanuel is in the Device Marketing organization working as a Sr. Product Marketing Manager supporting our Android tablet portfolio.  
In May 2014, Emanuel became the first member of his family to earn a college degree with his Bachelors in Business Administration from National University.   
Emanuel, while a San Diego native, is now living in the Pacific Northwest where Seattle has been his home for the past four years. He enjoys sharing his life adventures with his husband Osvaldo, who he recently married in July 2013, and their two dogs Manalo and Nemo, their spoiled Shih Tzu's.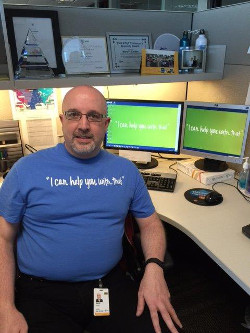 Mark is very excited to take on the role of Public Relations Officer for LEAGUE. The goal for LEAGUE is to communicate often, clearly and with transparency. He previously served for the last two years as advisor to LEAGUE at AT&T. He enjoyed this role in providing advice to the national and local leaders and being a historical data source about the organization. Mark is thrilled with the growth of the organization and the members that are taking an active role in leading both at the local and national level and those members that do the work of the organization daily. 
Mark previously served the members as CEO in 2012 after holding the office of COO, Communication Director and National Secretary. He first joined LEAGUE at AT&T in 1993 in the founding of the Kansas City Chapter. He also served as National Recording Secretary and then 5 ½ years as National Co-President. Near the end of that tenure he participated in the mergers of SPECTRUM (SBC), New Angle (BellSouth) and GLBT PRIDE (Cingular). He stepped away from the national operations after the mergers and focused his activities as Georgia Chapter treasurer. 
In his "real job", Mark is a Manager-Office of the President. He manages the escalations that reach the executive offices via various methods and through the Service Escalation Program. Previously he was a Manager – Quality/Methods/Procedures on the SOAR Team and in National Mass Markets Consumer and Small Business centers (Legacy T) with product and process support. He started his career in 1988 in Kansas City in telemarketing sales and progressed in various sales and sales support functions to his current position listed above.   
Mark believes the most important work taking place in the LGBT community is what is taking place in the workplace. How someone feels at work, being safe, secure and happy extrapolates to their life outside the company. 
He resides in Smyrna, GA.